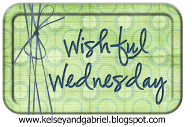 Kelsey's
question this week is
'I wish' .... I could relive one particular holiday experience over and over again, and it would be _____!
I had a hard time coming up with one particular moment (because all my holidays have been wonderful) so I decided to blog about one of my favorite presents I got growing up (that is close enough, right?).
And it was when I got my Samantha American Girl Doll when I was 7! I remember looking through my neighbor Nicole's catalog and I wanted Samantha so bad. Then Christmas morning I woke up and saw her under my tree - yipee!!!
And every Christmas I would see a new Samantha accessory under the tree: her closet, bed, birthday set (the best!!), etc... And then once her collection was complete, along came Felicity.
However, fellow American Girl fans, I have sad news -
Samantha is retired
!! When I went to go do this post I went to the American Girl website to get some pictures and to my shock, they have "put her in the American Girl archives," whatever the heck that means! I had so many good memories playing with my friends and their American Girl dolls I feel a little crushed right now.
At least she is packed away safely at my parents house!
You can head over to
Kelsey's site
to add your holiday memory too!